FREE SHIPPING ON U.S. ORDERS $150+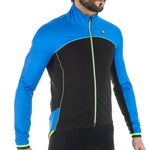 Men's AV 300 Jacket
Regular Price

$270.00

Sale Price

$270.00

Regular Price

$450.00

40% OFF

Unit Price

per
The AV 300 Jacket provides superior heat retention, moisture management, a full range of motion, and most importantly protection from wind and water on those brutal winter days.
The AV 300 is a 3-layer laminate jacket that provides maximum warmth and protection from the elements. It is designed to keep you warm during low power training and the coldest days. When riding at lower intensity the body produces less heat making it imperative to have a warm jacket in order to maintain optimal Core Temperature. Who's it for For the rider who cycles in the coldest winter conditions putting in base miles and light interval efforts and demands an aerodynamic and lightweight jacket to keep warm on those brutal winter days.
DWR Treatment The entire outer surface of the jacket receives a DWR treatment which adds an extra layer of water resistance to the garment. The treatment creates additional surface tension, suspending water beads to the outer fringe of the garment where they roll off before having the opportunity to penetrate the fabric. Breathable Membrane eVent DVstretch is a triple layer fabric with a 100% breathable and windproof membrane sandwiched between the DWR treated face fabric and a printed micro-fleece lining. The result is an impermeable barrier against the elements. The membrane's Direct Venting breathability allows moisture vapor to escape instantly facilitating Core Temperature management by preventing overheating.
The AV 300 has great elasticity to ensure a perfect, non-constricting performance fit.

Features + Benefits
Feature One
Tall, micro-fleece lined ergo collar forms to neck to protect against the elements
3 cargo and one zippered side pocket
Soft Super Roubaix lined double cuff
Pixel reflective ducktail protects rider's backside from tire spray
Additional hi-vis logos and Pixel reflective accents for visibility
Made in Italy
Variant:

BLACK/ORANGE / S

SKU:

GICW16-JCKT-A300-BKBK02
// $(window).load(function(){ // $('.cart-submits').on("click", function(){ // var variation = $(this).attr("data-url"); // console.log("click variant"+variation); // $.ajax({ // type: 'POST', // url: '/cart/add.js', // dataType: 'json', // data: {id:variation}, // success: function(data){ // location.href="/cart"; // } // }); // }); // }); // $(window).load(function() { // setTimeout(function () { // if ($('.slider_wrap').hasClass('showflick')) { // console.log("this slider wrap present"); // $('form.flick-form').addClass('hideupsel'); // } // if ($('.cus-slo').hasClass('nohead')) { // console.log("this cus slo nohead present"); // $('form.flick-form').addClass('showupsel'); // $('form.flick-form').removeClass('hideupsel'); // } // }, 2000); // });