FREE SHIPPING ON U.S. ORDERS $150+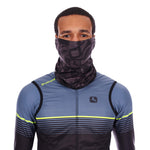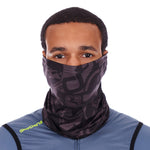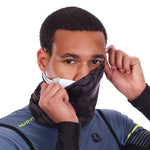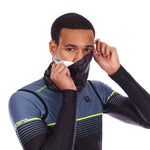 Thermal Neck Gaiter with Internal Mask
Regular Price

$30.00

Sale Price

$30.00

Regular Price

Unit Price

per
A technical face mask that utilizes our manufacturing expertise and specialized equipment to deliver a comfortable, breathable, and protective covering.
Features + Benefits
Lightweight and breathable fabric with 4-way stretch and UV protection
Treated with a water-repellent treatment
Cut from a single piece of material with no added elastic or piping for optimum comfort
Seams on top of the nose and under the chin contour the mask to the face
Laser-cut loops wrap around the ears to keep secure
Aluminum nose bridge adjusts to optimize fit and hold the mask to the face
Washable in warm water dry on medium heat
Made in Italy
This item is not eligible for returns or exchanges
This is not a medical-grade mask and is not intended as a replacement for medical-grade equipment 
Learn More
Our masks are designed for general use, appropriate for low to moderate exertion on the bike, or when riding through highly trafficked areas of walkers or other cyclists. They are applicable for use in any active, outdoor, or social setting.
We rigorously tested the masks in a variety of conditions and over extended periods of time. To ensure an ideal fit, our masks include an aluminum nose bridge to hold the mask to the face. The piece is easily malleable – just gently squeeze to conform to the face. Combined with a proper fit, the breathable, tightly woven material and single-layer construction allows for unrestricted breathing while still blocking transmission. 
This mask is not for use in a surgical setting or where significant exposure to liquid, bodily fluids, or other hazardous liquids might be expected.
Care
Quick tip– make sure not to bend the metal nose bridge totally in half. Once your nose bridge is adjusted to fit your nose and face, try to limit bending it back flat or in half. Limiting this will preserve the nose bridge. Machine wash and dry.
Variant:

DEFAULT TITLE

SKU:

GICW20-NECK-MASK-BKCA
// $(window).load(function(){ // $('.cart-submits').on("click", function(){ // var variation = $(this).attr("data-url"); // console.log("click variant"+variation); // $.ajax({ // type: 'POST', // url: '/cart/add.js', // dataType: 'json', // data: {id:variation}, // success: function(data){ // location.href="/cart"; // } // }); // }); // }); // $(window).load(function() { // setTimeout(function () { // if ($('.slider_wrap').hasClass('showflick')) { // console.log("this slider wrap present"); // $('form.flick-form').addClass('hideupsel'); // } // if ($('.cus-slo').hasClass('nohead')) { // console.log("this cus slo nohead present"); // $('form.flick-form').addClass('showupsel'); // $('form.flick-form').removeClass('hideupsel'); // } // }, 2000); // });